Katie Butler is Selected for 2022 Mercy Award at Bluegrass Community Hospital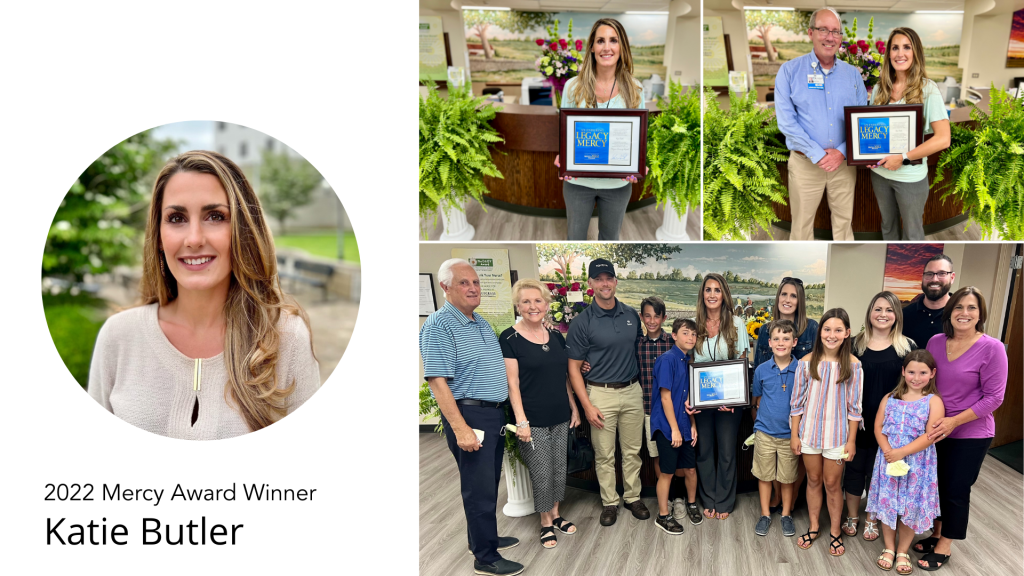 (Versailles, KY – June 17, 2022) Bluegrass Community Hospital, part of the LifePoint Health Central Kentucky market, is happy to announce that Medical Staff Coordinator and Administrative Assistant, Katie Butler, has been named the 2022 Mercy Award winner for going above and beyond for her fellow coworkers, assisting with tasks in many departments throughout the hospital, and volunteering in her community to make a difference, all while exemplifying the spirit and values upon which the LifePoint company was founded.
Katie Butler, a native of Lawrenceburg, KY, has been employed by Bluegrass Community Hospital for over three years now, continuously going above and beyond for hospital staff and patients. In the beginning of the pandemic, Katie championed our COVID-19 screening process for patients and employees. She has been known to come in after hours to show appreciation to nightshift coworkers.
Katie's heart of service expands beyond the hospital's walls. Aside from being a loving mother, church volunteer and active community member, she volunteers in the Central Kentucky region for Court Appointed Special Advocates (CASA). As an active CASA volunteer, she is appointed by a Judge to be an advocate for the best interests of abused and neglected children. In this role, Katie serves as a role model to the child and inspires others to volunteer their time.
"At Bluegrass Community Hospital, we are grateful to have Katie on our team," said David Steitz, CEO. "The Mercy Award is a great honor that represents not only great work at our hospital, but making a positive impact in our community and Katie exemplifies these qualities."
The LifePoint Mercy Award program memorializes the legacy of the late Scott Mercy, LifePoint's founding chairman and CEO. Each hospital annually selects one local Mercy Award winner who consistently strives to embrace Scott's caring philosophies and reach the high standards he set for LifePoint. The Mercy Award is the highest honor a LifePoint Health employee can receive.
Read All Posts